3 Game-Changing Tech Trends in Commercial Real Estate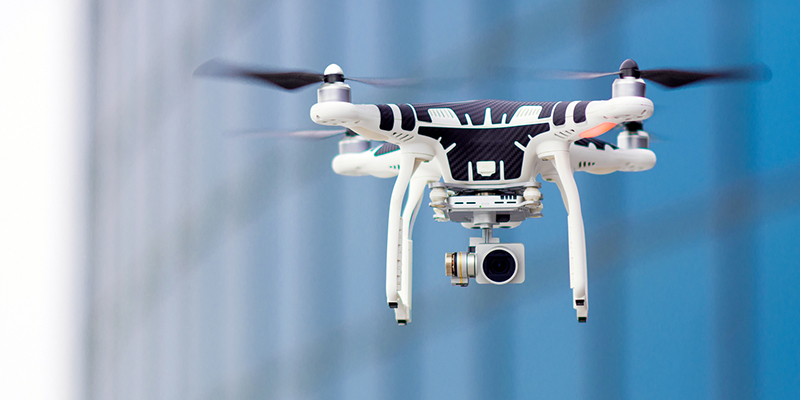 Drones flying overhead, people wearing virtual reality headsets, artificial intelligence predicting human behavior – these tools are no longer inventions you might see in a futuristic movie. We live in a world where these tools are helping revolutionize industries from package delivery to video games to self-driving cars.
Another industry they're impacting? Commercial real estate. Let's take a look at how these tech trends are changing the business.
Drones
Video taken by drones provides incredible, stunning aerial shots of your commercial real estate property. This is a powerful marketing tool when you're selling or leasing a large property or building. Drones allow you to get a better view of your property and its surroundings, providing a more comprehensive view to clients.
Not only can drone photography help you capture aerial media of your properties, but because of the small size and versatility of drones, you can inspect virtually anything from ductwork to roofs to crawlspaces.
You can see parts of your building that you may not be able to inspect otherwise. Aerial views can help you understand your properties on a deeper level. By studying overhead video, you can better understand the flow of vehicles, pedestrian traffic and access for delivery vehicles.
Certain drones go beyond basic video, like ones with infrared cameras that allow you to track heating or cooling leaks. Drones can also be used to test for gas leaks and measure the strength of cellular or other radio coverage at different points around your property.
During the pre-acquisition and pre-lease due diligence process, you want to know as much possible about a prospective property but only have a certain amount of time for inspections. All these drone techniques allow you to see more space in less time, with less effort.
Virtual Reality
Virtual reality (VR) is a wildly growing trend, expected to make a $15.6 billion impact on the economy in 2020. It's not exclusive to gaming and entertainment industries, but it's beginning to have an impact on the commercial real estate industry.
It can be hard for clients to visualize a vacant lot as a new apartment complex or a warehouse as their new, hip office space. VR can be used to show clients what an uncompleted development or space will look like after construction or renovations. People are looking for unique spaces, and sometimes the best option for them is to re-envision a building as something completely different.
Clients are now able to take virtual tours of properties or spaces they are interested in and get the feeling of moving around in it. A benefit of this is it significantly saves potential investors and tenants time and money. They may not have time to drive around to physically look at different properties, but with VR, they can simply spend time at your office virtually "touring" different spaces. This is especially convenient for clients that are not local and are traveling to look at locations.
VR is revolutionizing industries like commercial real estate by allowing clients to imagine the unimaginable and realize the potential of a space.
AI
Artificial intelligence (AI) is a term being use more and more today. AI is essentially computers or machines being able to imitate intelligent human behavior. Though the practice of using AI in real estate is newer, it's proving to be very valuable. AI in commercial real estate offers opportunities for process automation, leading to lower costs.
AI can be used to gather predictive analytics in building automation systems. For example, building automation systems collect data from patterns from the use of smart LED lights self-programming thermostats. When AI can use this data to control these building systems, this can lead to savings through lower energy, water, HVAC, and maintenance costs. Machine learning for buildings can be a challenge, but like any new technology, will only improve over time.
AI is also being used to help negotiate final leases. Brokers put in a lot of time and effort discussing and negotiating details of the lease terms and fair pricing. AI helps by basing a final price off hard data and clear analysis. AI can calculate a fair deal based off comparable prices of other office spaces in similar locations, saving everyone involved in the deal a lot of time.
Stay on the Cutting Edge with AushCo
When it comes to commercial real estate in Frederick, MD, AushCo is the leader in guiding your business to a better location. Our services include full-service property management and commercial real estate brokerage, construction management and investment property consulting.
We've found that there is nothing more challenging to a business owner than finding and creating the right space for your business. We've been behind some of the area's most successful businesses and real estate deals, from creating advanced technical offices and medical spaces to coordinating the area's biggest commercial real estate projects. We take the challenge out of finding a new space and turn it into the joy it should be.
Interested in finding a new space for your business? Contact us today!