Spring Cleaning: 10 Things to Check at Your Commercial Property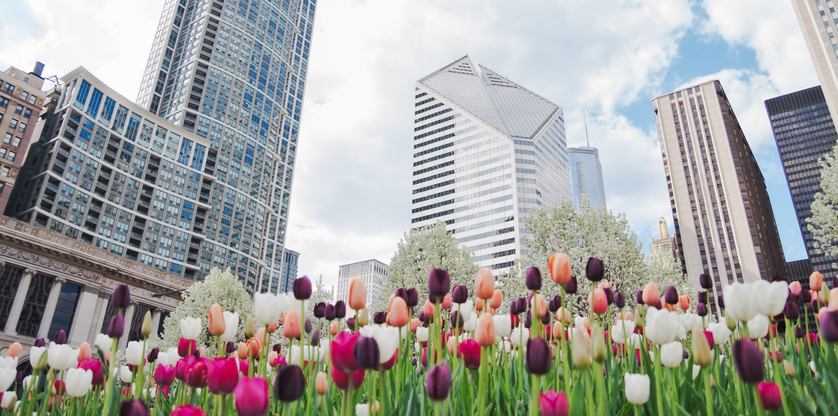 Frederick and Washington counties are finally leaving winter behind and moving into a season of longer days, greener grass, and (probably) a lot of rain.
Spring is here. With it, though, come a host of items to consider for commercial property owners. As the weather warms up, the list of to-dos gets longer.
With that in mind, here are 10 spring cleaning items to check off the list at your commercial building this season to continue maximizing property value.
1. Check For Any Winter Damage
In the wake of winter, there are a few common areas to check for damage.
Curbs and sidewalks are more likely to crack and chip during winter months as water freezes and refreezes in and around them as well as accidental snow plow nicks and chips – check to see if any maintenance is needed.
Grass, too, can sometimes be damaged, especially around the edges of sidewalks and parking lots from excessive salt use.
2. Schedule HVAC Maintenance
As the weather gets warmer, you'll need to transition your facility from heating to air conditioning. As you do, make sure your systems are ready to go.
It's helpful during this season to schedule HVAC maintenance to ensure that all equipment is in working order, so that your systems are ready to provide comfortable temperatures before the heavy heat of summer really kicks in.
Don't make the mistake of putting off this inspection and preventative maintenance. A lot of people do and what happens is that during the first few hot days there will be a lot of AC not working calls to the HVAC companies and the technician's workload will build up and it may be days until they can get to your building to address your cooling issues. Plan ahead and stay comfortable.
Another little secret – if you have an HVAC maintenance contract, you can usually get preferential scheduling for emergency repair calls.
3. Condensate Pump
On a related note, you may need to consider maintaining a condensate pump on your indoor air conditioner air handler to ensure proper drainage from your AC unit. If condensation flow away through a gravity line and your pump is not working properly it can accumulate condensation water and cause water damage.
Functioning condensate pumps ensure that this is prevented.
4. Schedule a Roof Inspection
Spring is also a great time to schedule a roof inspection, so that you can make sure your building's protected during upcoming rainstorms.
We also prefer spring inspections because, in the summer, the black roofs of commercial buildings can get uncomfortably hot. Inspectors may be motivated to rush through an inspection to get out of the heat. The cooler weather during spring allows them to be comfortable and take their time delivering quality evaluations.
5. Pressure Wash Exterior Surfaces
During the winter, dirt and grime can accumulate on exterior surfaces like siding, sidewalks, and more.
Spring is a great time to restore the shine of your commercial building with pressure washing. Done right, it restores the aesthetics of your exterior and leaves surfaces looking fresh and clean.
6. Update the Exterminator Contract
Unfortunately, with warmer weather and more moisture come more bugs. Ants, bees, wasps, and other insects are all more active in the spring, and some, in addition to being a nuisance, can cause significant damage to your commercial building.
That makes spring a great time to review your building's exterminator contract; for your sake and for the sake of your tenants, it's important to make sure you have quick pest control at the ready.
7. Get Bushes and Trees Inspected
Spring is an ideal time to ensure that the bushes and trees around your commercial building are inspected for any damage. You may be able to see the consequences of insects, diseases or funguses, but it is a good idea to have a professional take a look, and, if needed, schedule the necessary treatment.
8. Prune and Plant
In addition to checking your plants for disease, spring is a great season to plant new landscaping arrays and prune existing growth for health.
Pruning should happen in late winter to early spring, before new growth starts in earnest.
In the spring, you'll want to schedule mulching, and, along with it, the installation of early-season color – typically vibrant flowers like tulips, pansies, or hyacinths.
9. Check the Landscape Sprinklers
If your property has sprinklers that keep the vibrancy in your landscaping, you'll want to ensure that the system is in working condition for the season.
If the lines weren't blown out properly heading into winter, water could have frozen and damaged system components. Even if the system was properly winterized, it's worthwhile to check for clogging or any unexpected issues.
10. Inspect and Clean Out Stormwater Management Inlets
Finally, it's important to make sure that stormwater management inlets are inspected and in working order.
These are designed to accommodate heavy rainfall around your commercial building. Sometimes, over the course of time, they can become clogged with leaves, silt, gravel and debris which reduces their effectiveness in removing rainwater from your property.
If they aren't cleared before heavy rainfall, your facility could be in danger of flood damage.
Is Your Property Manager on Top of All of This?
Spring is a great season, but it definitely brings a big to-do list with it. Is your commercial property manager on top of all of these items?
Unfortunately, subpar commercial property managers don't comprehensively manage items like these. But the good news is that, if you're working with us, the answer is yes – we've got it covered.
At AushCo, we're veterans when it comes to the many ins and outs of property management. With understanding across industries and comprehensive knowledge of all types of commercial buildings, you can trust our proven expertise to provide the management solutions your building needs.
We offer a comprehensive breadth of property management service. From rent collection, to tenant communication, to vendor management, to spring cleaning, we take care of everything so that you can concentrate on other activities.
Want to make sure your property is in good hands this spring? Get in touch with us.